SEO 101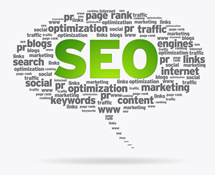 If you do a Google search for SEO or Search Engine Optimization, you will be instantly rewarded with millions upon millions of hits. Many people who are new to the internet have no idea what Search Engine Optimization even is; let alone what it's used for. However, understanding SEO is one of the most important keys to any business who intends to be successful online, and without a successful online presence, it's getting harder to be successful at all in today's economy.
What is it?
SEO is the understanding of how search engines use algorithms to determine the relevance of a website for particular keywords and thereby rank that website among others that are relevant the same keywords. Once we are able to understand the way the search engine does that, we can then use that information to optimize the website for those specific keywords that would best suit your business and thereby allow it to rank as highly as possible when a search is performed.
How does it work?
Algorithms used by search engines such as Google have to be highly complex in order to attempt to sort the legitimate websites that consumers are looking for and they scam/spam sites that are trying to draw those consumers away for their own purposes. Therefore, SEO experts like us have be able to figure out exactly what they are looking for, in order to get your website the highest score possible without risking it being mistaken as spam. To do this, after carefully selecting the best possible keywords to target for your site by finding the best possible balance of high search rates and low competition, we need to sprinkle those keywords throughout the pages of your site at just the right density and in such a way that it appears natural and organic as opposed to planned and forced in where it doesn't fit.
Why is it so important?
According to recent studies, the first result on a Google search gets just over 45% of all the clicks on that results page, followed by a steep drop to 15% for the second result and down to 10% for the third continuing sharply downward as you move down the page. As a matter of fact, the percentages drop off so sharply that even with searches resulting in millions of hits, 95% of the clicks go to the first 10 results. This is why it's so important to get your site ranked as highly as possible, unless you can get yourself onto the first page; the odds are it will never be seen.